Home
AOTA 2015 Conference - Nashville, TN
Join Us
2017 AOTA Annual Conference and Centennial Celebration
Contact Us
Our Purpose
Conferences and Seminars
AOTA Annual Conference - Chicago, IL
AOTA 2013 Conference - San Diego, CA
AOTA 2018 Conference - Salt Lake City, UT
AOTA 2014 Conference - Baltimore, MD
AOTA 2012 Conference - Indianapolis, IN
AOTA 2011 Conference - Philadelphia, PA
AOTA 2010 Conference - Orlando, FL
AOTA 2009 Conference - Houston, TX
AOTA 2008 Conference - Long Beach, CA
AOTA 2007 Conference - St. Louis, Missouri
AOTA 2006 Conference-Charlotte, NC
Grants & Program Positions
OJOTC Casual Shirts
OJOTC's Israel Connection
News From Our Members
OT Links
Jobs-Field Work

| | |
| --- | --- |
| | |
Havdalah In Salt Lake City
Check Out This Article From the March 7, 2014 edition of The Jewish Press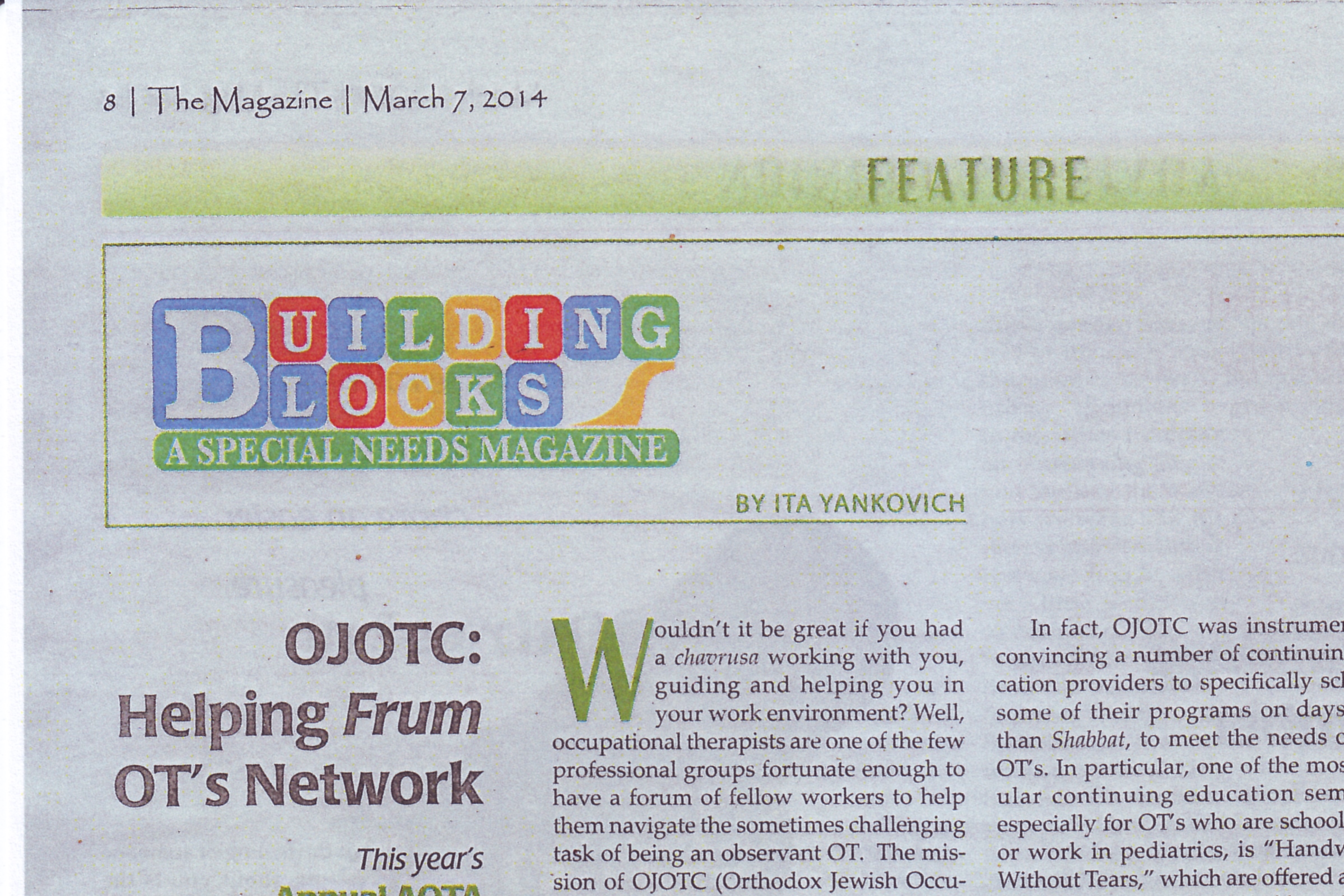 OJOTC OT's in the News

-------------------------------


Reflexes Seminar Draws Big Crowd




A 4-hour seminar on "The impact of Primitive Reflexes on Development, Sensory Processing, and Academic Achievement" held Sunday, January 26 presented by OJOTC member Paul Stadler MS, OTR/L, NDP (INPP) drew a full house.




The in-service program was a joint effort of Trinitas Children's Therapy Services of New Jersey and OJOTC.




It was held at the TCTS offices in Springfield, NJ

-----------------------------------




Presentation at Yeled V Yelda




Shoshana Shamberg OTR/L, MS, FAOTA (president of Abilities OT Services and Irlen Visual Learning Center) presented a well attended one day seminar sponsored by Yeled V Yelda in Brooklyn , NY for therapists and educators - "How Sensory Processing Disorders Affect Learning, Working, Behavior and Attention" focusing on Brain Gym and Irlen Method. Practical strategies were presented for handwriting, self regulation, motor coordination, visual/auditory processing, brain injury, ADD/ADHD, dyslexia, and much more. For more information call Shoshana Shamberg at 410-358-7269 or visit

www.irlenvlcmd.com

and

www.aotss.com
Did You Receive a Copy of the latest OJOTC e-newsletter

If not, we may not have your current e-mail address.

Please e-mail us at

mail@ojotc.org

so we can keep your e-mail address up to date.
Check Out page 118 of the December 2011 Issue of

the Jewish Press

for the special magazine "Building Blocks"....

...and an article on our OJOTC Shabbat Program in Indianapolis

also check out this article by OJOTC member Paul Stadler on page 68 of Building Blocks
Have You Read This Article in the August 31, 2009 Issue of OT Practice?

"Evidence-Based Practice Resources - Health and Wellness" was written by OJOTC Member Marian Arbesman and Deborah Lieberman.

The article explores the role that health and wellness have played in the OT profession and how the focus has shifted slightly over time into two new paths.

It is interesting and informative reading for all OT's and OT students.

Congratulations to Marian for her efforts in adding to the base of information as part of AOTA's Centennial Vision.
Did you receive our latest e-newsletter?

If not, we may have a wrong e-mail address.

Or you may not be on our e-mail list.

Please send your correct e-mail address to:
Do you need a calendar listing days of Yom Tov for your employer or school?

Click on this

link

and we will e-mail you a PDF copy of our OJOTC Yom Tov Calendar for the years 2010 through 2020

Now Available -- OJOTC Casual Shirts
How We Got Started....

January 20, 2006

Tamar Fromm had planned to spend Shabbat in her hotel room. Friday night dinner would entail little more than a peanut butter-and-jelly sandwich. An Orthodox Jew, Fromm, who keeps kosher, brought sandwich ingredients from home in New York to Long Beach, Calif., where she was attending the annual conference of the American Occupational Therapy Association.

By Friday afternoon, however, Fromm, an occupational therapist who treats people with multiple sclerosis, had met several other observant Jews attending the conference in May. Fromm, 25, scrapped her plans for a sandwich dinner, in favor of a makeshift celebration with about ten Shabbat-observant OTs. They lit candles on the hotel pool deck, and then gathered in a conference room for dinner. There was schnitzel from a local kosher restaurant, salad prepared by one conference-goer, and a jar of gefilte fish picked up by another.

The dinner launched Orthodox Jewish Occupational Therapy Chavrusa (www.ojotc.org). The caucus advocates on behalf of observant Jews working in occupational therapy, a field that in the past decade has become increasingly populated by Orthodox women. Though this particular group has long been a presence in the profession, Orthodox women now account for more than a third of students pursuing master's degrees in OT at several New York-area universities, including Columbia University, State University of New York-Downstate, and Touro College, according to anecdotal evidence.

| | | |
| --- | --- | --- |
| Please get in touch to offer comments and join our mailing list. | | |